Specialized in bored pile and diaphragm wall of civil and industrial work, LICOGI13-FC has finished many projects of industrial and civil works such as Nghi Son cement factory, Hoang Mai cement factory, Phuc Son cement factory, Song Thao cement factory, Uong Bi thermal power factory, Apartment building for Le Huu Trac hospital for burnt patients, Apartment building for staffs of National Assembly, Apartment for staffs of Policy science academy - Ministry of Public Security, National assembly house, Apartment building for National defence academy, FLC complex tower, FLC twins tower,..... 
Bored piles are cast in place piles created by drilling a hole into the ground with designed depth and diameter before installing steel cages.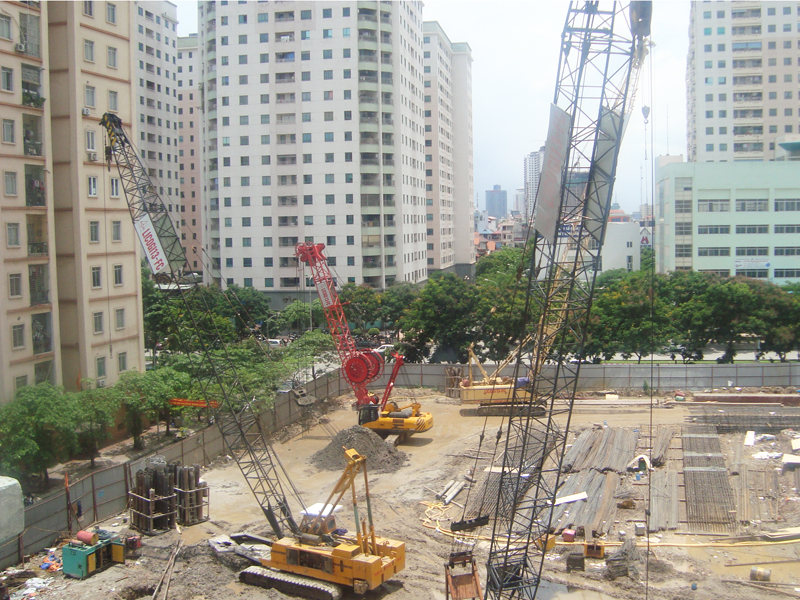 Picture 1. Bored pilea and Diaphragm wall of Handico 6 building - No 1 Hoang Dao Thuy – Thanh Xuan – Ha Noi
Diameter of bored piles: D400mm - D2500mm, especially D3000mm, with the depth of 120m.
Bored piles are used in projects with big load (Mainly high building) from 75 ton upto more than 4000 ton.
Diaphragm walls are reinforced concrete walls with the width of 0,6m ÷ 1,5m and 50 m deep. Barrete piles are often rectangular, T shape, I shape, Cross shape (+) or Y shape,...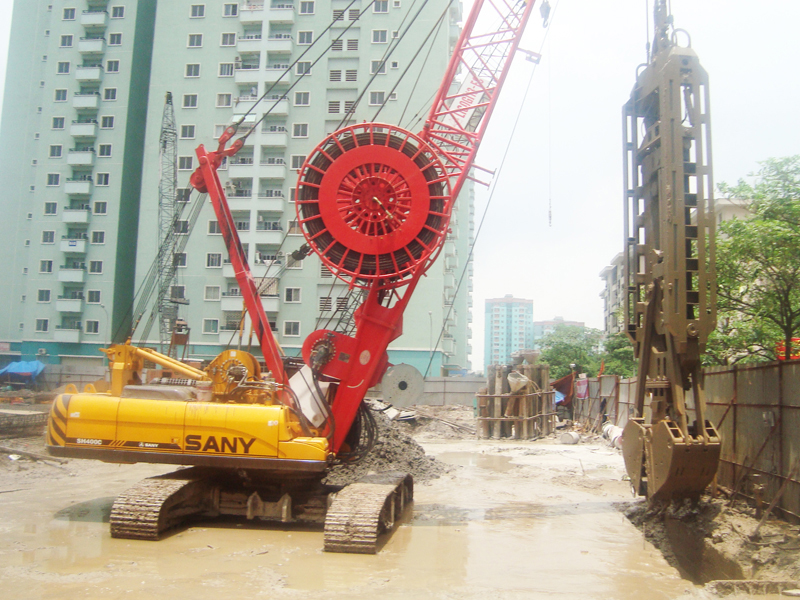 Picture 2. Diaphragm wall construction
Diaphragm walls have waterproof and load bearing function (they can be constructed interleaved with bored piles) with load capacity from 600 ton – 3.600 ton/pile.
Tường vây  thường được áp dụng làm móng cho các công trình cao ốc, các khu chung cư cao tầng với một hoặc nhiều tầng hầm, các tháp cao, các cầu dẫn, cầu vượt
2. Phương pháp thi công: Cọc khoan nhồi, cọc barete và tường vây có phương pháp thi công gần giống nhau là:  Dùng thiết bị khoan, cạp chuyên dụng khoan vào đất, đá tới chiều sâu thiết kế, dùng dung dịch Bentonite giữ cho thành hố đào ko bị sập, lở. Hạ lồng thép và đổ bê tông theo phương pháp vữa dâng.
Các bạn có thể tham khảo quy trình khoan cọc nhồi và cạp tường vây qua video dưới đây
1. Thi công khoan cọc nhồi: https://youtu.be/gckRnGemGaE
2. Thi công tường vây: : https://www.youtube.com/watch?v=3mDKfHvX2is